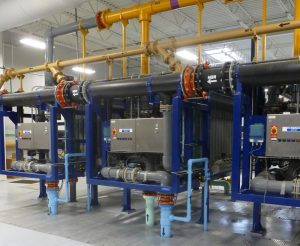 Considered experts in water treatment, our engineers have the experience needed to implement treatment strategies to handle issues ranging from simple nuisance contaminants to complex problems such as VOC's and challenging surface water sources. Our groundwater treatment expertise includes the following:
Pilot testing
Iron and manganese removal
Radium removal
Lime softening
Ion exchange softening
VOC treatment
Pressure and gravity filtration
UV disinfection
Our surface water treatment expertise includes:
Water intake, screening, and low lift pumping.
Conventional treatment using coagulation, flocculation, sedimentation, and filtration.
Conventional treatment with lime softening.
Advanced treatment with membranes and reverse osmosis.
Membrane replacement.
Disinfection and disinfection byproduct strategies.
Finished water storage and pumping.
We have extensive experience with expanding and/or rehabilitating existing water treatment facilities while keeping them in operation and meeting permit limits. Executing these types of projects requires a level of understanding, commitment to details, and expertise, all which has made our firm a valuable resource to clients for more than 70 years.
Contact us for more information about our Water Treatment Services.