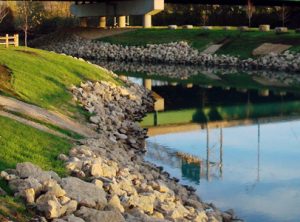 Our Green Infrastructure Solutions group draws from all of our areas of expertise — wastewater, stormwater, municipal, transportation, water supply, and buildings and facilities — to provide specialized services that meet the continually evolving needs of today's clients.  Whether it's stormwater best management practices, sustainable combined sewer overflow reduction, reduced energy usage, or green transportation design, we have the resources to provide creative, logical, sustainable solutions to meet each client's green infrastructure needs effectively.
Many of our green infrastructure projects are the result of an integrated planning approach that considers a broad range of community issues and provides client-specific, multi-objective solutions cost effectively.
Our team is well versed in preparing "business case" evaluations for green infrastructure projects, including traditional cost/benefit analysis, life-cycle costing, and triple bottom line evaluations.
Additionally, we are a charter member of the Institute for Sustainable Infrastructure (ISI), a not-for-profit organization created to develop and maintain a sustainability rating system (Envision™) for civil infrastructure in the United States. Envision™ provides a holistic framework for evaluating and rating the community, environmental, and economic benefits of all types and sizes of infrastructure projects. It evaluates, grades, and gives recognition to infrastructure projects that use transformational, collaborative approaches to assess the sustainability indicators over the course of the project's life cycle.
Contact us for more information about our Green Infrastructure Services.