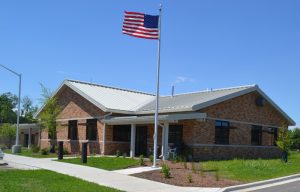 Our green infrastructure services include full service design of green buildings and facilities that incorporate state-of-the-art features aimed at creating more sustainable spaces. Our designs have incorporated elements such as geothermal heating and cooling systems, photovoltaic arrays, rainwater harvesting, daylight harvesting, pervious pavements, rain gardens, green roofs, energy efficient electrical and HVAC equipment, and recycled building materials.
Traditional buildings consume nearly 40 percent of the total fossil fuel energy in the US and are significant contributors of greenhouse gases. Leadership in Energy and Environmental Design (LEED™) is an internationally recognized green building certification program. LEED™-based design results in lower operating costs, increased asset value, reduced waste, energy and water conservation, increased occupant health and safety, and reduction of green house gas emissions. We have several professionals with this certification whom have designed numerous LEED™-certified buildings (gold and platinum) for our clients.
Contact us for more information about our Green Buildings – LEED Services.