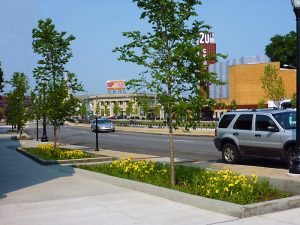 Our Green Infrastructure Solutions group has extensive expertise in all aspects of sustainable stormwater controls and green infrastructure best management practices (BMPs). Areas of expertise include:
Rain gardens.
Porous pavements.
Bioretention basins/swales.
Planter boxes/tree wells.
Infiltration basins.
Infiltration trenches.
Wet detention basins.
Wetland creation.
Extended detention basins.
Rainwater reuse.
Green roofs.
Detention basin retrofits.
Stream restoration.
Our designers are highly experienced with the unique challenges and design considerations associated with green infrastructure design and construction.
We have experience using a variety of resources to properly design, size, and analyze the benefits of the various BMPs listed above.
Contact us for more information about our BMP Design Services.