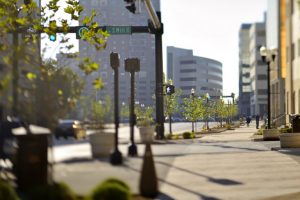 We regularly assist clients with redevelopment and urban renewal of existing downtown corridors and city streetscapes. As a full-service engineering firm, we can address diverse engineering needs and serve clients during all phases of project development, from planning through construction completion. Our scope of services is tailored to meet specific project requirements, which may include:
Street and curb alignment.
Walkways.
Bike lanes.
Parking.
Hardscape.
ADA compliance.
Intersection and signal design.
Street lighting.
Utility relocation.
Roadway drainage.
Transit stops.
Green and sustainable infrastructure components.
In addition to engineering services, we also assist clients with support services, including public outreach, permit preparation, funding assistance, and right of way acquisition. Our clients include large municipalities, as well as smaller cities, towns, and villages.
Contact us for more information about our Local Streets and Streetscapes Services.