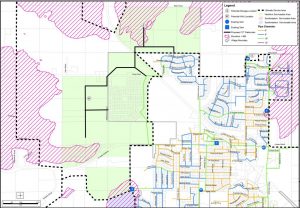 We have unmatched experience in the creation and evaluation of water system models. We have completed models for communities with 400 to more than 200,000 customers and have developed both stand-alone hydraulic models as well as models that work in conjunction with GIS.
A water model can help identify deficiencies in current systems and prepare for future system expansion. Often, a community knows the issues present in its system, such as high or low pressures, inadequate fire supply, water hammer, or frequent water main breaks, but a properly calibrated water model can help pinpoint problem areas and identify solutions. Calibration of the model can be a valuable process itself, as it compares real-time data to theoretical values. This often identifies previously unknown situations, such as faulty valves and inadequate water main sizes.
The benefit of modeling is when it is used as an aid in future planning scenarios, such as the following:
What happens to system pressures and storage levels if there is a fire event?
If an additional water tower is necessary to accommodate new development, what happens to water age?
How does a new water tower affect system hydraulics and refill operations?
How is the water system poised to handle projected maximum-day demands in the next 20 or 30 years?
What is the proper main size needed to extend to future developments?
What happens if there is an unplanned outage during a maintenance project?
Where would water main looping be the most beneficial?
Can the existing system serve the demands of potential new customers?
How is pump curve selection affected by complicated and looped system hydraulics?
Contact us for more information about our Hydraulic Modeling Services.