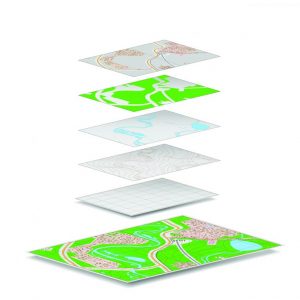 Geographic Information Systems (GIS) and computerized mapping focus on two broad arenas. The first, manages facilities and records. It links databases such as tax records, water billing addresses, sewer locations, and other types of infrastructure records to a "map". By joining the powers of a database with the visual comprehension offered by a map, enormous potential is unleashed for facilities management and presentation of information. For example, sewer manholes needing repair can be queried, plotted, and used as a base for the current year's maintenance program. Pavement conditions can be inventoried and evaluated and a 10- to 15-year maintenance program developed. Landowners affected by a water main repair can be notified by mail prior to the repair. These are just a few examples of how GIS can help municipalities and organizations take information they already manage and put it to greater use.
The second arena of GIS and computerized mapping enables the analysis of data already collected. Counties and municipalities have spent millions of dollars establishing GIS databases that can be tapped for study. In fact, any digitally oriented information can be placed in a GIS environment for analysis. Typical information often available from these GIS databases includes parcel maps, zoning maps, digital orthographic aerial photographs, facilities maps, topographic maps, and census data. Information maintained by local governments can be used for studies, impact analysis, and long-range planning.
 Examples include using an existing parcel map to determine impacts from a road project; using the existing land use map with the parcel map and soils map to determine runoff curves for a stormwater study; determining the shortest route to a city area by an emergency response team; and querying crash types for an accident analysis. These are just some of the analyses that GIS can assist with from information that is currently available.
Contact us for more information about our Geographic Information Systems Services.