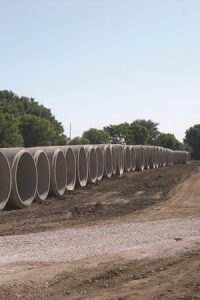 We have a broad background in engineering services for wastewater conveyance systems and pumping stations. Our experience includes projects involving extension and/or reinforcement of existing collection systems, as well as complete planning, design, and construction supervision of new multimillion-dollar sewerage systems. In recent years, we have planned and designed in excess of 320 miles of sanitary sewer and pressure mains, ranging in size up to 180 inches in diameter. Prior to most of our more significant conveyance projects, we complete a comprehensive report or planning study to identify current and future conveyance facility needs.
On most projects, we are involved in assisting with financing, developing assessment methods, developing and meeting project timetables, and coordinating all aspects of public relations. We feel these aspects are just as critical to the success of a project as the technical engineering involved.
Contact us for more information about our Sanitary Sewer and Pumping Services.