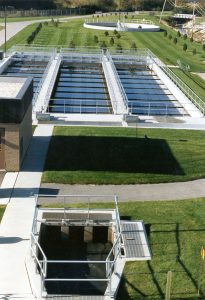 We have extensive experience with dynamic modeling of hydraulically-complex wastewater collection systems. Models we use include XPSWMM, SewerCAD, InfoWorks, Hydra, and simple spreadsheets. The impact of wet-weather events (rainfall and snow melt) upon the hydraulic operations of wastewater conveyance systems is generally adverse. Because of this, many communities are now developing hydraulic models of their conveyance systems to:
Gain a comprehensive understanding of how the system normally operates in dry weather and how it currently reacts to various wet-weather events.
Utilize "real time" flow control strategies within the existing infrastructure (such as flow diversion) to maximize capture and transport of flows to the wastewater plant for ultimate treatment and discharge.
Analyze future service alternatives to accommodate population growth and infrastructure improvements.
Evaluate project alternatives to identify optimal solutions.
Use as a basis for regulatory compliance, especially in combined sewer overflow (CSO) communities.
Contact us for more information about our Collection System Modeling Services.