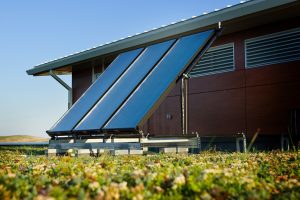 Reducing energy consumption and incorporating energy efficient and renewable energy technologies in existing or proposed facilities is like putting money back in our client's pockets. We consider and identify practical and measurable green facility design, construction, and operation and maintenance solutions for every client, on an individual project basis. We implement energy conservation designs for all of our service areas, not just for our green infrastructure solutions.
Our staff is skilled in performing energy audits of existing or proposed buildings, processes, or systems, to reduce the amount of energy input without negatively affecting the output. Beyond simply identifying the sources of energy use, an energy audit seeks to prioritize the energy uses from the greatest to least cost-effective opportunities for energy savings.
An energy audit evaluates building envelopes for the overall thermal performance, efficiency, condition, and programming of mechanical systems such as HVAC, process, or system equipment; and electrical systems such as lighting and power supply. Energy audits are not limited to facilities. We have performed numerous evaluations of water and wastewater processes to optimize equipment and make suggested improvements based on a client-derived payoff period. As a part of this process, we have assisted our clients in obtaining grants and tax credits for their energy use reduction projects.
Contact us for more information about our Energy Use Services.