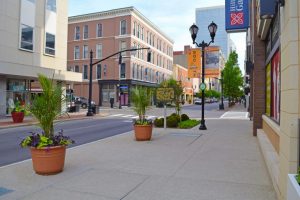 Sustainable transport systems are becoming increasingly important initiatives in transportation on local, regional, and national levels. Transport systems have significant impacts on the environment, accounting for nearly 25 percent of the world's energy consumption and carbon dioxide emissions. Our transportation planning and designs strive to optimize continuous traffic flows to reduce start and stop times, congestion, and vehicle idle times, ultimately contributing to a reduction in air emissions and reliance on fossil fuels. This is achieved through our corridor studies, advanced traffic modeling and simulation, reduction in unnecessary signals, signal timing optimization, and incorporation of roundabouts.
We are familiar with a variety of recycled and sustainable materials that can be used for road reconstruction and paving projects, as well as sustainable construction techniques such as full depth pavement reclamation. Our team understands the environmental impacts of the heat island effect and roadway construction, and works to mitigate adverse environmental impacts where possible. We consider reduction in energy usage on transportation projects by incorporating LED street and signal lights into our designs. We also have a great deal of experience in finding creative ways to incorporate green elements within the right-of-way in order to manage stormwater runoff from roadways.
Contact us for more information about our Transportation Services.