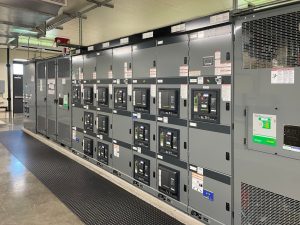 Our team of engineers has the expertise to provide comprehensive solutions to today's complex electrical needs. Our staff experience includes industrial, commercial, and municipal system designs that strive to exceeds our clients' expectations.
Our design team has experience with:
High, medium, and low voltage power systems.
Alternative and sustainable energy systems to deliver cost-effective, energy-saving solutions.
Power design services.
Emergency generation and standby power systems.
Distributed generation systems.
High voltage switchyards.
Medium voltage distribution systems.
Building power systems.
Power factor correction systems.
Energy management systems.
Building condition and reliability assessments.
Power system short circuit and coordination analyses.
Harmonic distortion analyses.
Solar photovoltaic generation systems.
Contact us for more information about our Electrical Power Services.