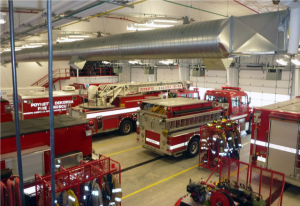 We provide engineering and architectural plan development and design services for police, fire, and emergency medical services (EMS) departments and agencies. Our projects include greenfield facilities, existing station renovations, and historic building renovations.
Our design team features:
A dedicated emergency service design team that works together regularly.
All the architectural and engineering disciplines in-house needed to successfully complete projects. This provides a comprehensive and well-coordinated approach for projects.
An active volunteer fire and EMS officer on staff, which provides unique insights to design of these facilities.
Fire and EMS design services and features include:
Site selection assessment/evaluations.
Space needs assessment and programming.
Existing facility evaluations and assessment.
Site/civil design (stormwater, traffic analysis, utilities, etc.).
Architectural/structural design.
Full mechanical design (green/sustainable infrastructure).
Station alerting and communication systems.
Vehicle exhaust and purging systems.
Audio/visual systems.
Security systems.
Site and built-in training features.
Emergency operation centers (EOC).
Police design features (in addition to above) include:
Sally port and vehicle garage.
Evidence storage.
Interview/observation rooms.
Bulletproofing and hardening of public area.
Contact us for more information about our Emergency Services Services.