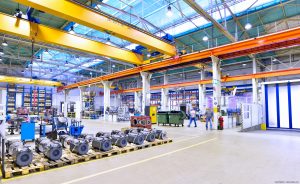 We provide architectural and engineering services for manufacturing facilities throughout the country. Our design team features all architectural and engineering disciplines in-house to provide a well-coordinated approach for projects. Projects include new, remodel, and addition-focused projects. Additionally, our team provides thorough coordination with owner and owner's equipment suppliers during design to prevent last minute scope and cost changes during construction.
Our full-service design team features:
Manufacturing facility design features.
Site selection assessment/evaluations.
Existing facility evaluations and assessments.
Site/civil designs (stormwater, traffic analysis, utilities, etc.).
Employee welfare space designs.
Office and meeting space designs.
Recycling/waste space designs.
Architectural/structural designs.
Equipment (press) foundation designs.
Full mechanical designs (green/sustainable infrastructure).
Facility communication systems.
Audio/visual systems.
Security systems.
Contact us for more information about our Manufacturing Services.