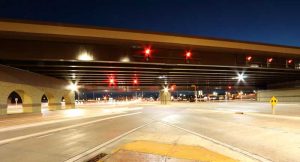 We have provided plan development, design, and construction services for a wide-range of traffic signal projects. Our experience has included hundreds of permanent and temporary traffic signals, and the integration of innovative features, such as Adaptive Signal Control (ASC) systems. Our experts continually integrate new and proven technology enhancements that result in low-cost solutions to efficiently move traffic, for all modes, through congested transportation networks. From single, stand-alone intersections to complex urban corridors with multiple intersections, we perform the following traffic signal services:
Permanent and temporary traffic signal systems
Warrant analyses
Signal equipment modification and upgrade projects
Complex interchange traffic signal plan development and design
Inclusion of traditional and non-intrusive vehicle detection systems (microwave, camera)
Pedestrian signals
Emergency vehicle signals for fire stations
Emergency vehicle preemption systems
Railroad preemption systems
Decorative signal equipment
Wireless and fiber optic communication and interconnect
Adaptive signal control (ASC) systems planning and design
Central software evaluation
Private development-initiated signals
Contact us for more information about our Traffic Signals Services.