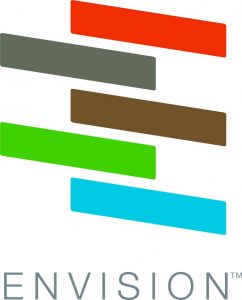 We serve our clients with excellent engineering by delivering long-lasting, resilient, and sustainable infrastructure that solve their problems and meet their project goals. The same is true in providing excellent engineering for our environment. Protecting our environment and infrastructure is critical and we do this through sustainable project scoping and resilient infrastructure design.
To help in our efforts to provide sustainable solutions for our clients, we use the Institute for Sustainable Infrastructure (ISI) Envision. Envision is a tool that guides our project teams toward more sustainable and economically-beneficial designs for our client, the local community, and environment. This tool guides our team in making the most sustainable decisions during design and construction of infrastructure projects.
Envision v3 is the newest program version, which is made up of 64 sustainability criteria, also called credits. The credits are arranged in five categories: Quality of Life, Leadership, Resource Allocation, Natural World, and Climate and Resilience. For more detailed information on Envision, please visit their website sustainableinfrastructure.org. We have several Envision Sustainability Professionals; they are located throughout our firm.
Contact us for more information about our ISI Envision Services.